Welcome to The Society for Poole – formerly The Society Of Poole Men
The Society was founded in 1924 and was instrumental in saving Scaplen's Court, parts of which date from 1380, and which is acknowledged as a national treasure.
Its aims are "To promote Poole; its history, culture and people"
Not an historical society, we are working with the Borough regarding its strategic development plan whilst voicing concerns over general planning issues and environmental issues as well as opportunities to promote the town, retaining traditions such as Beating the Bounds, and the erection of historic blue plaques & information boards as well as promoting the use of the Poole Flag.
We are affiliated to Poole Heritage Forum, Wessex Newfoundland Society, Friends of Upton Country Park, Friends of Poole Park, and Poole Twinning Association.
Social events (also open to the general public) are generally held on 3rd Tuesday in the month at Royal British Legion Hall, 66 North Road, Poole, BH14 0LY at 7:30pm. Diary of events is available here.
We are actively seeking new members.
Anyone (male or female) over the age of 18 who lives in, works in or originates from, or has the interests of Poole, its past, present and future at heart, is eligible to apply for membership.
We Provide the Following Services
Latest News
Dates for Your Diary
19th March Talk on Sandbanks By Frank Henson 16th April AGM 21st May Talk – Poole's Air Raids WW2 David Warhurst 18th June My Family and other Smugglers of Dorset Roger Guttridge
Read more.
Membership Fees Due
Just a gently reminder to anyone who has not paid their subs for 2019 please can they do so and a warm hug to those who have arranged an automatic payment and
Read more.
Distribution of the View from Poole
Distribution Lists I have taken over the distribution of the View from Poole, the Society's quarterly magazine. I have attempted to streamline and rearrange the areas that each current distributor covers as
Read more.
Current Events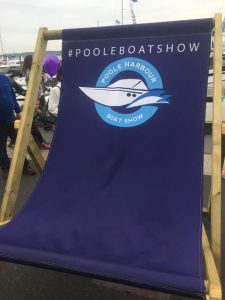 Poole Maritime Festival
When: 10/06/2019 @ 09:00 – 11/06/2019 @ 18:00 Where: Poole Quay, The Quay, Poole BH15 1HJ, UK Poole Maritime Festival – on Poole Quay 10th & 11th June The Society for Poole
Read more.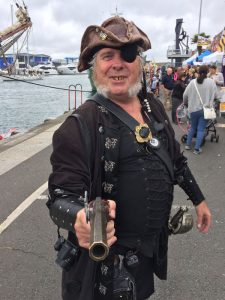 Harry Paye Day
When: 16/06/2019 – 17/06/2019 all-day Where: Poole Quay, The Quay, Poole BH15 1HJ, UK Harry Paye Day – on Poole Quay 16th June To mark the 600th anniversary of Harry Paye on
Read more.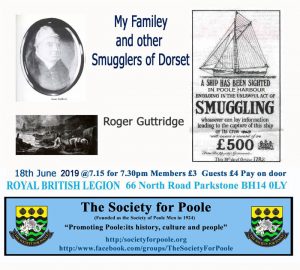 My Family & Other Smugglers of Dorset
When: 18/06/2019 @ 19:30 – 21:00 Where: Royal British Legion Hall, 68 North Rd, Poole BH14 0LY, UK Talk by Roger Guttridge on My Family & Other Smugglers of Dorset. Event Details
Read more.