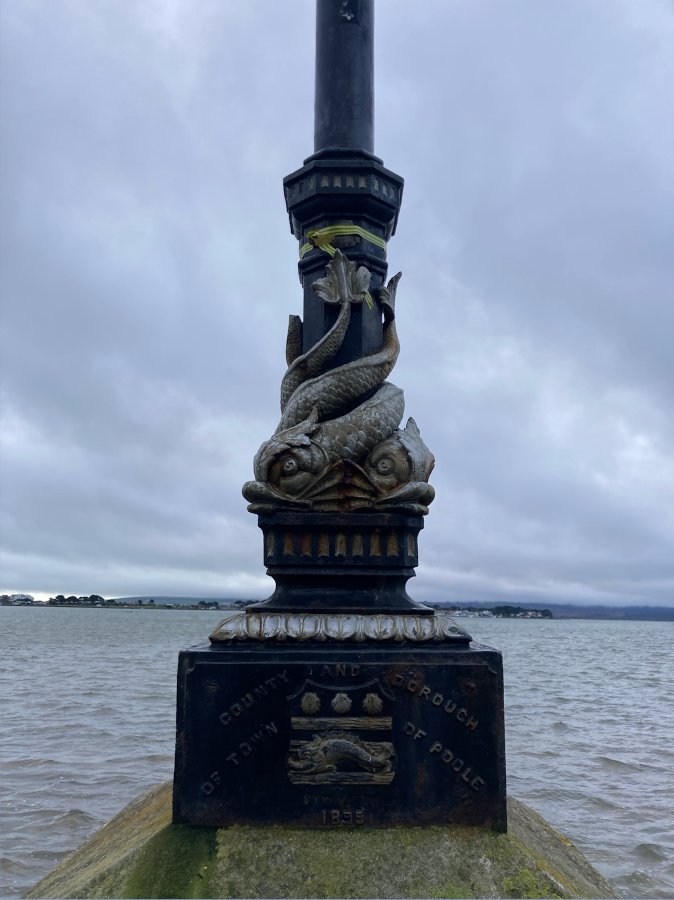 The Society for Poole (SfP) applied and received an allocation of £42,000 from BCP Council's Community Infrastructure Levy (CIL) fund and have a further application for £22,000 being assessed.
The application was to remove, refurbish and reinstate the heritage columns which stand at the bottom of Evening Hill and run the length of Shore Road. The original light columns were built in 1895. The sit adjacent to the sea wall which originally kept the sea away from the large sewer which ran beside it. It was said that the original idea was to use methane from the sewer to light the gas lamps however this didn't appear to work.
Over the years they have stood the test of time. Their maintenance has been now passed to the control of BCP Council's Lighting department, however as they are decorative rather than essential road lighting their upkeep has not been a priority. Indeed in 2015 2 columns were hit by a yacht which slipped its mooring. Bother were broken and Poole Council compensated for the damage. Unfortunately 1 column has been replaced in aluminium which after 8 years has deterirorated badly in the salt and driving sandy conditions, whilst the other was left absent for 8 years.
The Society for Poole has lobbied to have the missing unit recovered and erected. This has now been done however the refurbishment of the unit is so poor that it is considered that it will need further considerable work to properly restore the column to its original condition.
The SfP has, for 18 months, been in contact with BCP regarding the missing column and to gain approval to work on the refurbishment project. After the involvement of 5 Councillors and the Chief Executive of BCP, we finally managed to meet with the Lighting department and start to coordinate a way forward.
We are now out to tender and about to award the first contract for the refurbishment of the first section of lights in September 2023 – so watch out!
Updated on 19/08/2023